Southern Illinois! What's not to love about this beautiful, mostly rurally populated area? From the lush, breathtaking nearby Shawnee National Forest, parks and recreations, and friendly communities, it's a wonderful area to call home. 
But I know you'd agree that there is one thing here that is not so welcoming! The forests do not suffer from a lack of precipitation. True! Particularly in the springtime. Still, unfortunately, showers starting in late March may cause heavy rains and high humidity, leading to water damage to your home or commercial space.
What is water damage, exactly?
Water damage happens when water and moisture intrude into a space for which it is unintended. Just last year around this time, for instance, Belleville News reported that flooding from heavy downpours in the area wreaked havoc on homes and vehicles. It caused road closures and even forced the evacuation of nursing homes. To make matters even worse, the storm caused parts of a levy to erode.  
Due to record precipitation, home and business property owners in Southern Illinois or the surrounding area, are at higher-than-average risk for water damage. This includes basement flooding, ceiling leaks, and major water damage from burst pipes and water dams. Structural damage, soggy drywall, subfloor deformation, destroyed belongings, contamination, and mold damage can result from easter intrusion. What's more, the impact can range in severity and prove costly.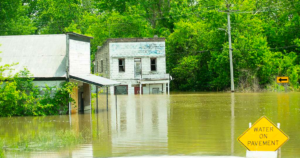 Water damage restorations can be costly
According to Manta's 2023 estimates, the "average cost that homeowners paid for water damage restoration in Madison County is between $720.00 and $5,150.00." 
The good news?
Water damage is usually covered by insurance. In most cases, you don't have to foot the restoration cost yourself. Water damage claims are the second most commonly filed for homeowners, so more often than not, you're covered! When determining your coverage, however, there are three main factors to note: 
Source

– What caused the damage? 

Time

– Was it sudden or gradual? Insurance may not cover damages due to negligence in addressing a long-term issue in a timely way.

Policy

– What is or is not specified in your policy? Various policies have unique inclusions and exclusions. 
But no need to stress when things get wet.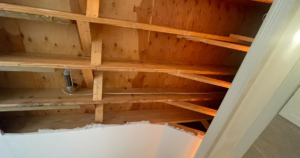 What to do next?
When you experience water damage, call water damage restoration pros like The Flood Team. We aim to restore your property AND peace of mind, even involving filing insurance claims. With over 30 years of assessing water emergencies and providing fast, efficient, and effective water remediation solutions, we know more than a thing or two about filing claims. The Flood Team's insurance specialists have extensive knowledge about insurance and will handle documentation and billing, so you won't have to. 
We make it easy:
Step 1: You call us first
so you have a trusted, compassionate, and experienced ally in the wake of your water emergency. 
Step 2: We evaluate your situation for FREE
and see if a claim is needed in your unique situation. 
Step 3: We get to work fast,
arriving equipped with state-of-the-art equipment to extract water, dry, clean, and in some cases sanitize areas. We also call
your insurance company
and start your claim to ensure you get the coverage you are entitled to receive.
Step 4: We bill insurance
and send all required documents and invoices to your insurance company.
So, call The Flood Team first so we can help restore your enjoyment of your Southern Illinois home or commercial space. There is so much to be thankful for when you live in a place like Southern Illinois. Let the Flood Team restore your home and enjoyment of your home sweet Illinois home or workplace. We are your best bet when things get wet. Call The Flood Team today.