Water Damage & Homeowner's Insurance 
One inch of water doesn't sound like much unless that inch destroys your valuables and costs thousands in property damages. We won't mince words here: Shock from water damage can lead to fear, stress, and financial distress. 
Besides, damage can grow just as fast as water flows into every nook and cranny.
The Good News: Homeowner's Insurance
In most cases, you don't have to foot the restoration cost yourself. Water damage claims are the 2nd most commonly filed for homeowners, so more often than not, you're covered! When determining your coverage, however, there are three main factors to consider: 
Source

– What caused the damage? Is the damage due to heavy rains seeping into your property, a plumbing problem, an appliance leak, or other common causes?



Time

– Was it sudden or gradual? Insurance may not cover damages and restoration costs in some cases, such as long-term leaks.

Policy

– What is or is not specified in your policy? Various policies have unique inclusions and exclusions based on defined factors. Knowing the specifics about what is and isn't covered in the event of a water disaster can save you time, hassle, and money.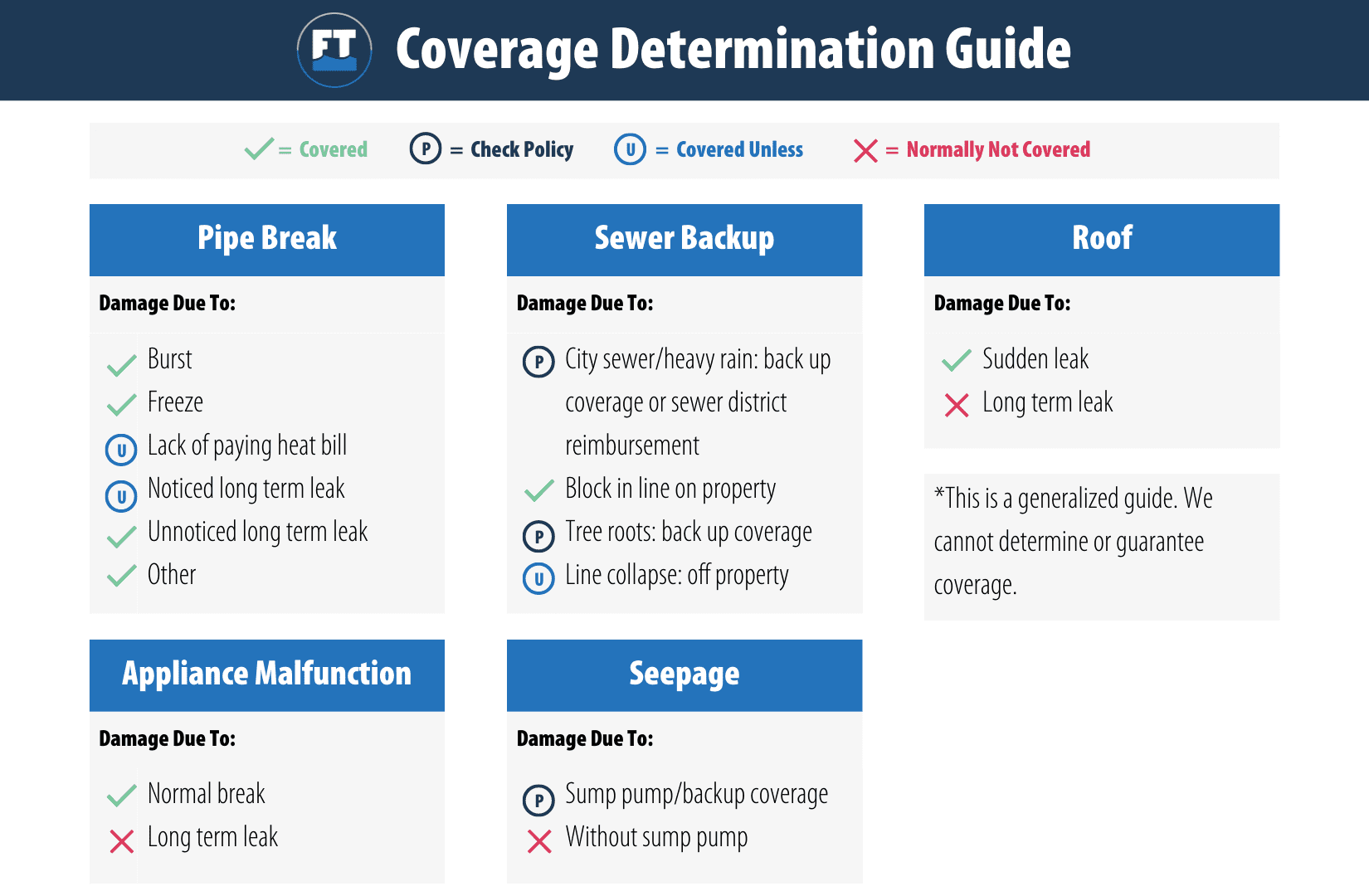 But Why Stress?
While The Flood Team's "Coverage Determination Guide" above is a great place to start when determining what is covered under insurance, much still goes into ensuring that you are covered and the extent of that coverage. In short, filing insurance claims can be an utter nightmare, especially after you've already endured so much stress in the wake of a water emergency:
Why stress over whether you're covered or not? 

Why contact your insurance company to possibly be placed on hold, wasting valuable time and energy? 

Why recount the disaster to an agent while you're still reeling from fresh shock? 

Why become frustrated over compiling required documentation and become overwhelmed over submitting it in a timely fashion? 
Why stress, when there is an easier way? 
Besides, you already have so much on your mind and heart, so let The Flood Team do our stress-relieving part! 
Call The Flood Team FIRST
The Flood Team aims to restore your property AND peace of mind, even where insurance claims are concerned. With over 30 years of assessing water emergencies and providing fast, efficient, and effective water remediation solutions, we have also learned more than a thing or two about filing claims. The Flood Team's insurance specialists have extensive knowledge about insurance and will handle documentation and billing, so you won't have to. 
We make it easy:
Step 1: You call us first so you have a trusted, compassionate, and experienced ally in the wake of your water emergency. 
Step 2: We evaluate your situation for FREE and see if a claim is needed in your unique situation. 
Step 3: We call your insurance company and start your claim to ensure you get the coverage you are entitled to receive.
Step 4: We bill insurance and send all required documents and invoices to your insurance company.
So, call The Flood Team first so we can work directly with your insurance company as your trusted ally so you get the best possible outcomes after your unexpected water disaster.  
We Assess, Address, and Help Relieve Financial Stress
Let us assess your unique water disaster for you! You don't have to decide if or when to make a claim. The Flood Team's insurance specialist will factor in ALL costs and benefits! Call us to help you evaluate if the costs will exceed your insurance deductible and if a claim is even necessary. Calling us first will cost you nothing and may benefit you by $1,000s! All you lose by truly calling us first is stress and a huge water mess!
The Flood Team: Best People & Best Processes
The Flood Team prides itself on being your best bet when things get wet, and we have the best people and processes to prove it! Our Flood Team professionals are highly trained, equipped, and certified.  Not only will we call the insurance company on your behalf, but we also have seamless processes to help you with your insurance claim. You and your insurance company will have access through the Flood Team's proprietary app to your important documents and water remediation progress all in one place. This includes: 
Invoices

Receipts

Photos

Moisture readings, and

Any other documentation you may need for your insurance claim process.
So act fast, call the Flood Team FIRST, and let us put our experience and expertise to work for you!
Why Should You Act Fast After a Water Emergency?
Over a short period, building materials, contents, and valued items can become permanently damaged from prolonged contact with water. This can cause swelling, staining, rotting, and even hazardous mold growth. Calling The Flood Team, even before contacting your insurance agent, can have our remediation specialist out in no time to assess your damage, address your emergency, and file an insurance claim for you when necessary.  
Water + Time, NOT a Good Combination
While most materials withstand initial contact with water, long-term water contact will cause almost all materials to break down. Another factor to consider is the category of water contamination (detailed further below). The degree of contamination may quickly render building material and belongings permanently damaged, especially when Category 3 water contamination from sewage is involved. Furthermore, water also gets worse over time. 
There are 3 categories of water. They are determined by where the water comes from and not the color.
If left untreated, each category will become significantly worse over a short period! 
Why is this bad?  When water is stagnant, bacteria in the water can quickly duplicate, contaminating everything it touches. This may make it impossible to properly clean and sanitize specific materials due to water contaminants. Act fast because water damage grows worse with time!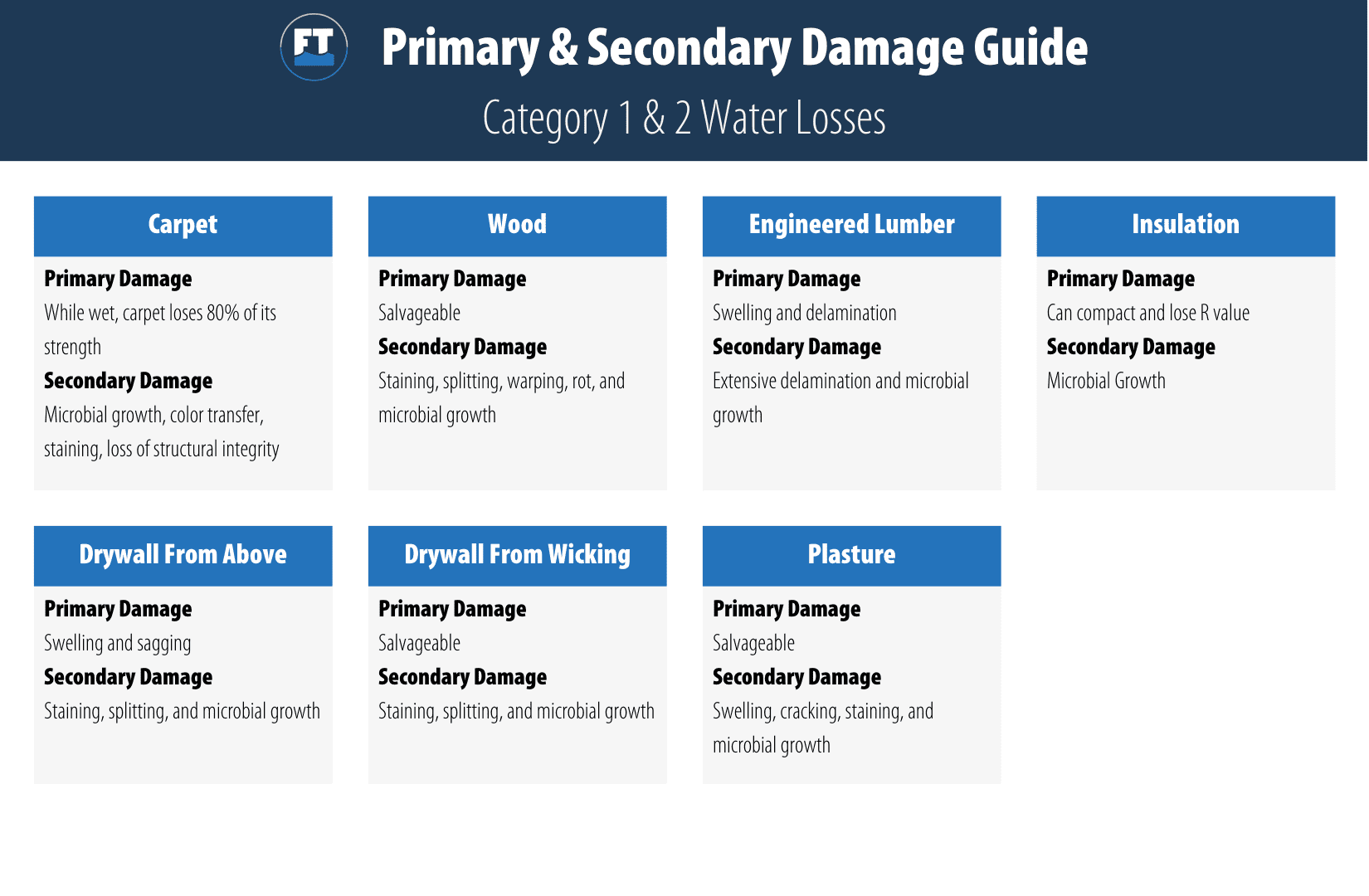 What Is a Sign that Things are Getting Worse? 
Strong odors are a good indicator things are getting worse! Bacteria are well-known to cause some of the most repugnant smells on earth! Furthermore, an odor may be indicative of mold growth, even in unseen spaces. 
How To Stop Mold Growth? 
It's simple! Mold takes some time to grow and thrive in humid, moist conditions! Water is the primary food source for mold. By removing all water fast and creating dry airflow to all wet surfaces until all moisture levels are back to normal standards, mold has no chance to grow, thrive, and wreak havoc on your health! 
The bottom line is the faster you act the safer and more cost-effective it is when an insurance claim is filed following a water emergency.
 Call The Flood Team today for a free water damage assessment, so we can serve as your compassionate water remediation specialists and trusted insurance claims liaison. We aim to get the best possible outcome for you, your property, and your pocket. 
We stand by our word that we are your best bet when things get wet. 
Call today and leave assessment, restoration, and insurance claim preparation to your local Flood Team pros.